Often, I dream of food. Exotic ingredients, unthinkable flavor combinations, different uses for the common vegetable... It's a blessing and a curse, really. I love having the ability to create delicious dinners, yet also, wishing that it controlled less of my life.
I do not believe in complicated dinners. Sure, the occasional time consuming special occasion dinner is one thing. But I refuse to spend more than 30 minutes making one thing. And I promise you- our meals are spectacular. You can have both wonderful food, and food fast.
This also leads me to hardly ever use recipes. Recipes tend to be too lengthy in preparation or ask for too many bizarre only-use-once type of ingredients Or if they are "fast" and require little ingredients, they tend to be dull and tasteless. If I do use them, though, I consider them more of guidelines. Leaving out some, and adding more... and never using perfect measurements. I do, however, find Pinterest to be a wonderful resource for dinners. I don't know why I recipe from a blog bothers me less than a recipe from a book, but it's true.
This all leads me here. This recipe is fast, very filling and beyond delectable. I'm salivating just writing about it. I made a version of
it
. It's extraordinary taste is still haunting me. I
need
to make this again. Soon. I think it is a splendid brunch idea served possible with hash browns.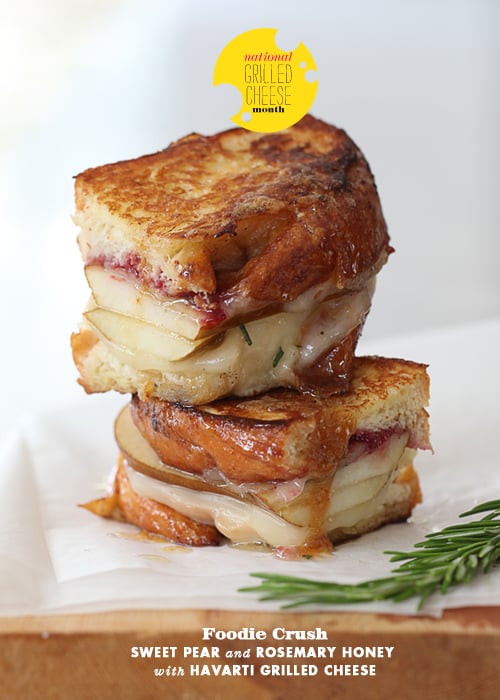 Are those ingredients and combination resonating in the taste buds of your mind?! Rosemary. Pear. Havarti. Raspberry jam. Butter. It's bliss I tell you! Bliss!
This is
an amazing creation
from Heidi on
Foodie Crush
.
Sweet Pear and Rosemary Honey with Havarti Grilled Cheese
serves 4
3 tablespoons butter
1/3 cup honey
1 tablespoon fresh rosemary, chopped
8 slices challah bread or brioche
2 tablespoons raspberry or strawberry jam
8 slices fresh pear
16 slices Havarti cheese
1 egg, whisked
1 tablespoon milk
1. In a small saucepan over medium heat, melt 1 tablespoon of butter. Add honey and rosemary and stir until blended. Reduce heat to low and simmer for about 30 minutes. Remove from heat.
2. On each slice of 4 slices of bread layer 1/2 tablespoon raspberry jam, 1 slice of cheese and 2 slices pear. Drizzle with honey and top with 1 more slice of cheese and remaining bread slices.
3. Heat a skillet on medium and melt 1 tablespoon of butter. In a shallow bowl, whisk egg and milk together. Dip composed sandwiches in egg mixture, add to skillet two sandwiches at a time and cook for about 3-4 minutes or until bread becomes golden and cheese starts to melt. Flip sandwich once and cook until cheese melts and bread becomes golden, another 3-4 minutes. Repeat with additional sandwiches. Cut in half and serve hot.
I changed ours just a bit. I didn't add honey. Why? No other blessed reason other than I forgot. I didn't miss it though. But what I did that made a huge difference was add
bacon
. That's right. Bacon. Just a few slices of not too crunchy, not too soft, old fashioned honey bacon. The extra kick of savory (not to mention protein) gave this sammich a well rounded finish! And now that I'm thinking about it... next time I am going to add some thinly sliced red onion, as well. Also- I had troubles when it came to dipping the sandwich in the egg mixture. I don't believe there is any other magical way to do that rather than just being messy and using both hands.
Enjoy! Enjoy! Enjoy!
Xoxo,
A
Image via