Pinterest has been a God-send for new food ideas. I quickly realized upon getting married that I didn't have nearly as many recipes in my mind as I thought. Sure, for 1 person, it was fine (especially on a tight budget). But with a hungry hungry husband (that's what the game, Hungry Hungry Hippos, was really supposed to be entitled) that is out of the house by 5:30 AM and upon return 12 hours later needs big dinners- it just wasn't enough. So I've been pinning many ideas. And to keep track, I write them all down on a Word calendar. I can look at past months and get re-inspired.
These are
my recent Pinterest finds
that we are going to be enjoying over this Christmas week.
I made this at Thanksgiving and I definitely looking forward to tasting it again! It was perfection. When I made this, I left out the jalapeno (because we are spicy wimps). And I also left out the Cumin. I never use that and was not compelled to purchase it for only 1/4 tsp. But I also
added
red white vinegar. Holy heck people, this is Christmas crack. I recommend Wheat Thins to dip. Image and Recipe via
Jamie on Jamie Cooks it Up
! Also a funny story to read.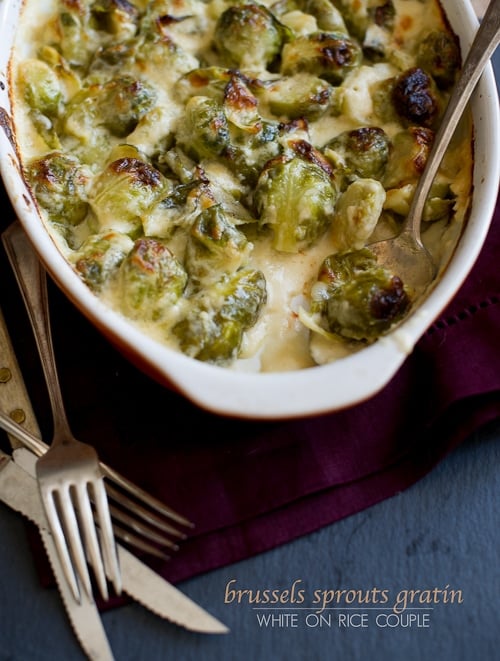 I've never cooked brussel sprouts... but the beautiful bag of them at Carrs last week was simply just too tempting! Can't wait to try. Recipe and image via
White on Rice Couple
.
These make my mouth water just thinking about them! Christmas morning "breakfast" anyone? Recipe and image via
Portuguese Girl Cooks
.
I have to admit that I have an obsession with Champagne. It is most definitely my beverage of choice. Silly, right? I don't care what time of day it is- I am always up for drinking a mimosa. I love cooking with it, as well, so this seems like something festive to try. Although I am befuddled as to where to get red currants here (fruit is pretty limited, particularly specialty items)... so I believe I'll replace with pomegranate or raspberries. Image and recipe via
Tartelette
.
What holiday food traditions do you have? What will you be creating for your family?
Oh, and we might be trying
these
, too.